Gates and Railings
The addition of gates and railings can be used to provide an architectural feature and enhance security - contact 4-Tec Steel Fabrications to discuss your needs.
The team at 4-Tec Steel Fabrications have designed, fabricated and installed gates and railings for domestic, commercial and industrial properties with considerable experience in understanding the application and its environment.
Bespoke Design Steel Railings

Bespoke Engineered Design

Electric or Manual Gates

Hinged & Sliding Gates

Residential & Industrial Gates

Security Gates & Railings

Traffic Barriers & Height Restrictors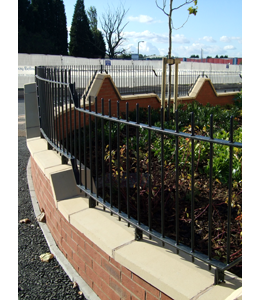 Gates and matching railings manufactured in wrought iron, mild steel and stainless steel provide an excellent perimeter barrier or crowd control. 4-Tec Steel Fabrications railings also provide the perfect edge for ramps built to allow disabled access.
Gates built by 4-Tec Steel Fabrications can be provided to suit all drive widths, from garden gates to lorry parks and can be designed for manual or electric operation with hinge or sliding mechanism.
4-Tec Steel Fabrications – your experienced partner in design, manufacture and installation of bespoke steel gates and railings for domestic, commercial and industrial installations.
Contact the design team at 4-Tec Fabrications to discuss your specific application.